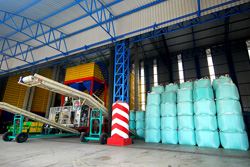 Siam Farming Export Company Limited, we are carefully selected our raw material. We pay attention in every steps of production process in compliance with the standard prior to packing and distributing to our customer. We are confidence with our product quality by using new technology and machines at manufacturing bring out the quality product tothe global market.

Raw Material Selection Process

We purchase paddy rice that pass the quality standard and long grain rice by samples collecting to measure humidity, screening out contaminants, hulling to see the proportion of brown rice between full grain and broken pieces then bringing the brown rice to polish white. All of this must be done according to the standard of quality paddy rice which leadsto quality rice. Paddy rice is stored in ventilated warehouse prior to retain paddy rice quality.


Rice Milling


Hulling and Screening rice


Production processes perform through separator machines to remove contaminants according to the standard. Then go to cracker machines to get the unpolished rice (Brown rice). In the separation process, we are confidence in using modern machines to get high quality brown rice, clean, and without contaminants.

Polishing White


Brown rice passes to polishing white machine to remove rice bran layer from the brown rice to get the white rice which still retains value nutrition as well as the taste of rice for consumer health benefits. In another word, the rice's nutritional value and benefits perfectly retained.
Final Polishing


The white rice passes into the rice polishing machine to get the rice white and shiny, nice rice grains with the same size of grains as the market needs. This process will retain the product quality which allows the product can be kept longer.
Color Separating Machine

Process the white rice through color separating machine that controlled by computer system which has the accuracy in separate the under standard grains out. In this process, the machine will sort out the waste grain, red and yellow grains, including rice grain that under quality standard. To get white rice grains within quality standard of rice export

Storage and Packaging
Our rice is stored in silos and warehouses that meet the finest international standards of hygiene and cleanliness. We ensure quality control for sanitation and weight by using a closed system for packaging; this automated system eliminates contamination and guarantees that the consumer receives exactly what is ordered: pure, fresh, and fragrant Thai rice. Our products are available in vacuum-packed containers for weights from one to eight (1 – 8) kilos and in traditional packaging for weights from five to 100 (5 – 100) kilos.


Distribution
We have reviewed the standard delivery prior to deliver it to customers. By checking with our sales person and coordinating with distribution staffs that the products are met customer requirement and agreed upon before arranging it to the containers. Checking the product condition is in good condition. We provide our product distribution in many transportation modes such as truck or sea freight, and to assure that our customers received the products timely is the most important key to our consideration. We aim to build trust worthy service and confidence with our customer partners.